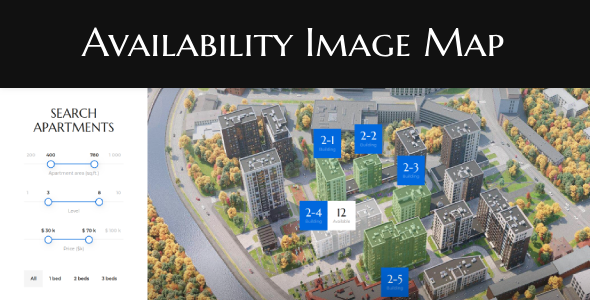 Especially on WpLitt.Com for people of
Ashburn

.
Apartments table in frontend (new feature):
Universal Interactive Image Map plugin for:
Classic SVG Maps
Templates with dynamic values from Data Base (single table, any columns)
This Image Map WordPress Plugin can be used for presentation with availability map (selling or renting) of:
Apartment Complex
Apartment Community
Business Center
Real Estate Auction
Office Space for Rent
Lot Sales Map
Residence Complex
Apartments
Full featured page builder for creating image map
Video Tutorials
Main features
Template builder with custom SVG-map
Many styles settings (colors, fonts, borders etc.)
Custom fields with SUM and COUNT functions
Custom user filters
Backend apartments management (add, edit, availability)
Comments history for apartment (simple CRM)
Polygone Hover Tabs
Polygone Hover Tooltips
Polygone Click Popups
Polygone Click Redirect
Admin Columns plugin compatible
Advanced Custom Fields plugin compatible
WP All Import plugin compatible
How apartments looking in backend:
Updates log

1.27.121
added table element for output properties list in fronteted with all filters support


Especially on WpLitt.Com for people of
Ashburn

.
If you are in India or nearby WhatsaApp us on +91 9765190210 ! If you are in USA or nearby Please WhatsApp us on +1 9808190210