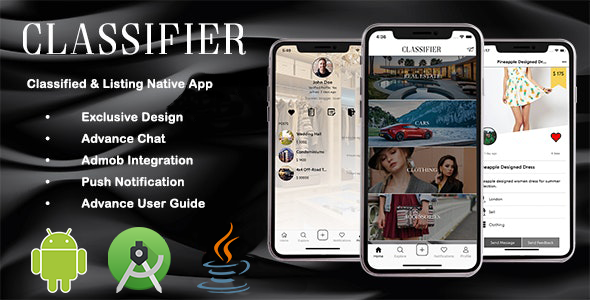 Especially on WpLitt.Com for people of
Ashburn

.

Classifier is a native, developed with JAVA, easy to customize, complete app.

You don't have to worry about buying domain/hosting and uploading php files to web server. It's backend is by Parse Server. You can use it free

Classifier is the best and special designed classified & listing app for Android, developed to grow your classified business. 
Mobile application development based on neuromarketing strategies
Exclusive Design based on UI/UX
4 different Ads Types
Home

Listing Categories and Subcategories
Exclusive Fonts

Ads Listing

Listing ads with multi features
Scroll Down Animations

Ad Details

Photos
Price
Title
Description
City
Category
Subcategory
Type
Send Message
Send Feedback
Go to Advertiser Profile
Report

Advance Chat

Send text message
Send picture from gallery
Take photo
Delete chat
Block / Unblock user

Explore

Explore all ads
Pull to Refresh Function
Sorting by randomly like Instagram

Share / Edit Ad
Notifications
My Profile

View / Edit my ads
My likes
My feedbacks
Edit profile
Logout

User Profile

View her/his ads
View feedback
Report

Advance Search
Advance Filters

Browsing ads by Category, Subcategory, City or Type
Sort ads by Newest, Oldest, Maximum Price, Minimum Price and Most Popular

AdMob Integration
Advance Push Notifications
Admin Notifications to System Users
Advance Verification Email System
Social Media Login and Register
Clean Code
Advance User Guide Documentation
Android Studio Project – JAVA –   Android  5.0+
Backend with Parse Server hosted on back4app. Yes it's Free
Back4App Admin Panel
Version 1.2
Release Date: 17/05/2020
Functions have been made compatible with latest SDK
Dependencies are updated
Version 1.1
Release Date: 09/03/2020
Subcategory feature is developed.
UI designs are improved.
Filters function is improved.
Notification functions are improved
Version 1.0
Release Date: 29/07/2019
Especially on WpLitt.Com for people of
Ashburn

.
If you are in India or nearby WhatsaApp us on +91 9765190210 ! If you are in USA or nearby Please WhatsApp us on +1 9808190210