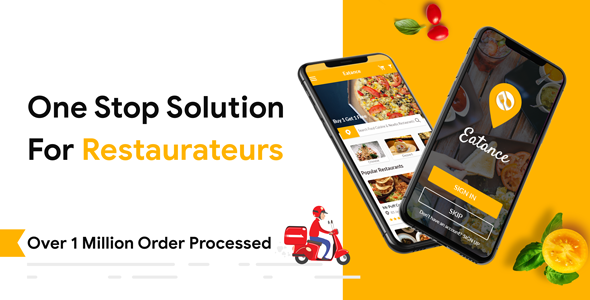 Especially on WpLitt.Com for people of
Ashburn

.

Eatance – The Food Delivery & Driver App is an add-on to Eatance – Restaurant App with the Driver app and multi-restaurant feature. In short, it is a mobile restaurant application developed with React Native framework that can be used by a restaurant owner to manage daily pickup/delivery service. It's an exquisite app wherein driver, restaurant and customer remain on the same page. The driver will receive notification for all orders placed once the restaurant owner accepts the orders. Moreover, the user can track his order in real-time.
Eatance Driver App Features:
Simple, hassle-free app
Location-based restaurants list display
The driver will receive notifications for all orders
Trace driver's real-time location
Capture driver earnings
Eatance Mobile App Features:
Multi Restaurant App
Simple, hassle-free app
Search location-based restaurants
Track order in real-time
Guest Access – no login required to check restaurants, cuisines & dishes.
An attractive categorized menu
Pick up/Delivery
Apply Promo code
View order history
Reservation Management
Menu Display
Easy checkout
Push Notification
Interactive back-end
Dish/Recipe based search
Eatance Admin Panel Features:
Multi restaurants support
Create driver accounts
Set country
Receive orders
View list of all orders
View order history with estimate times
Track driver earnings
View bookings
Update status of bookings
Manage Promo code
App Takeaways:
Ready-to-Use App
Intuitive & Unique
User-Friendly
Easy Navigation
Interactive Back-End
Mobile App Play Store Links

https://play.google.com/store/apps/details?id=com.eatance
https://play.google.com/store/apps/details?id=com.eatancedelivery
Demo account:
Eatance Customer App Username:

Mobile no : 898989898989

Password: Test@1233
Driver App Account:

Mobile no : 8888888881

Password: Test@1233
What You Get : With Your Purchase You Will Get
Full Admin Backend Source Code
Eatance Driver APP Source Code
Eatance User APP Source Code
You will get Mobile Source Code,DBfile, and Demo of Application in separate mail after your purchase. Our Technical team will send you an email with Mobile Source code file and complete Package after your purchase. To Request Source Code File , please contact paul@evdpl.com
Your Item purchase does not include: 1. Customization services 2. Installation
services We are available from Monday to Friday so we will be able
to answer your inquiry related to product and support from Monday to Friday. Note: Due to Covid-19
Situation, we do have very limited support Team. There may be delay in response or
answering your questions. The average response time will be 48 to 72 hours to
answer your questions.
Note: Before purchase please check documentation. Related to Document if you have any question please contact on info@eatanceapp.com. Our support team will share the documentation and please make sure if you are okay with documentation then you purchase the product.
Note: All Images that use in products are for demonstration purposes only. However, the person purchasing the application need to replace the demo with their own images.All images are under copyright@evincemage.com.
Change Log:
Reactnative version updated to .60.5
Especially on WpLitt.Com for people of
Ashburn

.
If you are in India or nearby WhatsaApp us on +91 9765190210 ! If you are in USA or nearby Please WhatsApp us on +1 9808190210