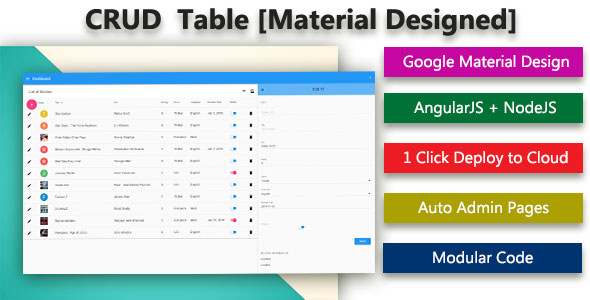 Especially on WpLitt.Com for people of
Ashburn

.
This item has been deprecated. No support. There is a newer version with advance features Vuefull
Database CRUD (Create, Read, Update, Delete) operation using AngularJS(1.6) + NodeJS + MySQL (Material Designed)
This AngularJS directive is capable of automatically generating the database table management pages (creation, updation, deletion and listing)
Developed Based on Google Material Design Specs which produce a aesthetic, fast and smooth UI.
CRUD generator based on Angular 1.6 + Webpack 3
This AngularJS web app is for website manager's to develop database admin pages with help of an direcitve which in turn reduces the hard repetative tasks.
Features
Auto generate Material Designed Admin Pages for MySQL database tables
Boiler plate to start developing Enterprise level Material design single page web app
Supports both local and OAUTH authentication using Passport
Based on Google Material Design SPECs
Mobile first adaptive framework which is good looking and easy to use
Built over AngularJS SPA (Single Page Application) framework
Automatically generates ReST API using NodeJS at the backend for faster service
Instantly create admin panels with user roles
Modular Code – Both client and server
Better Authentication
Endpoint generator
Smarter build process
Deploy to cloud with single command
Highlights
Install dependencies
npm i -g gulp-cli
npm i
Start the application
gulp serve
Requirements
Demo: https://scrud.herokuapp.com/
Documentation: https://scrud.herokuapp.com/doc/pre
Technology used
Softwares: NodeJS, MySQL
Frameworks: AngularJS
Design: Mobile first design based on google Material Design Guidelines
Especially on WpLitt.Com for people of
Ashburn

.
If you are in India or nearby WhatsaApp us on +91 9765190210 ! If you are in USA or nearby Please WhatsApp us on +1 9808190210