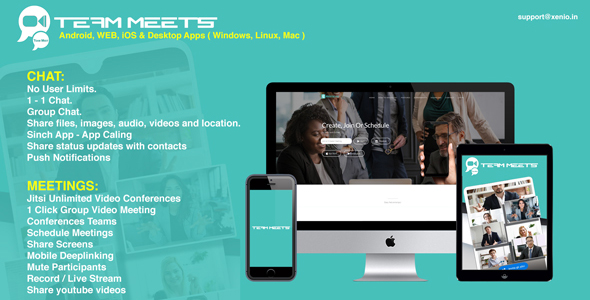 Especially on WpLitt.Com for people of
Ashburn

.
MeetsPro – The Complete Chat, App – App Calling, Video Conference & Webinar Solution
100% End – End encrypted Video Conferences
HD Audio / Video Conferences
Clean Code
Web & Android, iOS
Easy Documentation
100% Native code
Firebase Database Integrated
Push Notifications FCM
Screen sharing on Desktop & Mobile
Schedule Meetings, Create Teams.
Whatsapp style Chat, Group chat, App – App calling powered by Sinch
Status ( Share Short Videos, Text and Images ) – iOS supports only images currently.
iOS Code will be provided post-purchase email support@xenio.in , iOS is tricky and we will be happy to handhold you to publish yourself ( paid support) or provide installation/publishing help if you don't have a Mac with the latest Xcode (Charges Apply )
Android Demo APK Download
Web Demo https://admin.xenio.in
Admin Panel https://admin.xenio.in/admin – Username: meet password: abcd1234
The MOST feature-rich Chat & conference app on codecanyon
New Business Listing Feature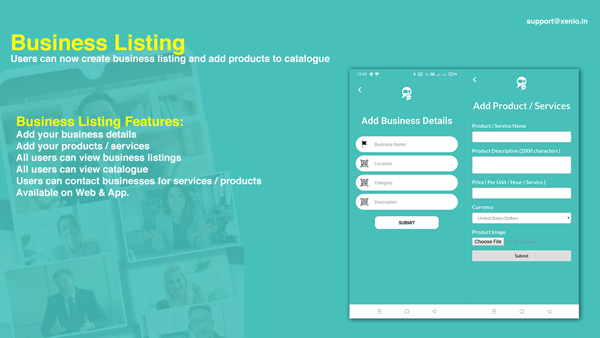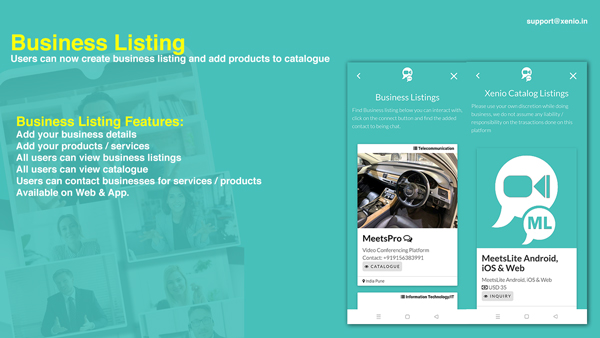 Add on Features that can be added on your own Jitsi Server ( Installation Support Available )
Recording.
White Board
Secured Rooms ( Great for teachers, moderator and screen share rights are granted only to the teacher )
Lobby Room ( Waiting Area )
OPTIONAL – You can host on your own VPS or opt for the FREE VPS from us.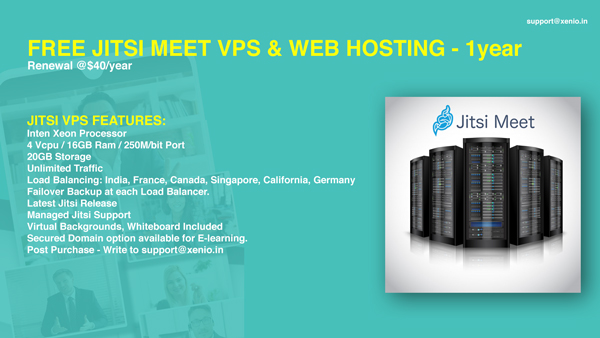 Limited Time Offer: FREE Jitsi Hosting VPS Your own logo / branding
An optimized Low latency Server, Check latency at https://check-host.net/check-ping?host=jitsi.xenio.in or ping jitsi.xenio.in
** OPTIONAL**
Now also available:
Limited Time Offer: Preinstalled Jitsi Hosting VPS $65/year – 4Vcpu, 8GB Ram, 20GB SSD, Unmetered Traffic, full root access, 1 Static IP , your branding.
Webinars Modules available for integration on OWN website – As Customisation.
Add on Services:
Installation.
Jitsi nstallation.
Skin Customisation.
Webportal Integration.
Buy Extended License and GET all the above add on services FREE 
Note: After Purchasing Please reach us at support@xenio.in for activation
Note: App – App calling requires Sinch API. Video Conference uses Jitsi.
We also provide customized Video Conferencing Solutions or embedding it into your current app.
Write to us at support@xenio.in
Note: Services like Recording & Whiteboard is dependent on Jitsi and is not part of the standard configuration, Call push notification on Android 9 and above does give issues on certain manufacturers due to battery saving.
Free Installation does not include rebranding, reskin, jitsi server setup. Free installation only covers installing the web version,Compiling the app with your app name and logo. Does not include Playstore / App store submission. Color and design customisation cost extra
Change log - 30-05-2021
1) Bug Fixes and Updates on the Android Version - Including Screen Sharing on Conferences.
2) Jitsi SDK version update.
3) Business Listings Added

Especially on WpLitt.Com for people of
Ashburn

.
If you are in India or nearby WhatsaApp us on +91 9765190210 ! If you are in USA or nearby Please WhatsApp us on +1 9808190210