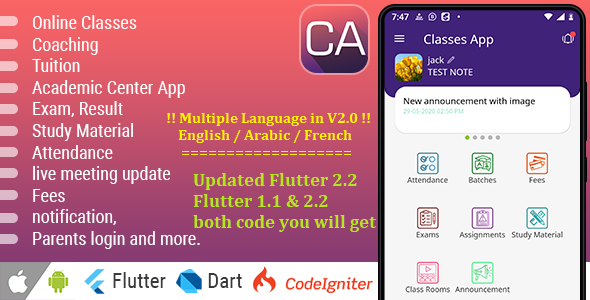 Especially on WpLitt.Com for people of
Ashburn

.

Class App is useful for multiple branch or single branch of Online Classes / Online Coaching / Online Tuition/ Online Academic Center management app.

Flutter 1.1 & Flutter 2.2 Both code you will get so you can use any one which ever suitable to you. This is full application with backend, app code and reskin guide.

BEFORE PURCHASE PLEASE NOTE:

We don't provide any support or installation services as its easy and guide inside download. Support not possible due to we have lots of work and limited member.
If product is suitable to you then and then purchase else find alternative.

WE ARE VERY CLEAR IN TALK. AS WE CAN NOT WORK SO WE HAS TO DENY.

NOW SUPPORT MULTIPLE LANGUAGE V2.0

English / Arabic / French

Why Online Class app?

In Today situation Online education is biggest requirement for any academy and so we made this all in one app having all features which required to run online coaching class.

Base Requirement:
Android Studio 3.0 +
Php Ver. 5.6 +
My Sql
Codigniter 3.1.11 +
XCode 11.5
Swift 5
Flutter 1.17.1
Tools – Dart 2.8.2
Click to Get Notification => Discount / Updates / Product Launch <= Follow US
Get in Touch for extra modification at below.
Skype: Click To discuss on Skype
E-Mail: Click To Mail
Features:
Multiple Branch Classes in one owner support and also as single branch.
Teacher management classes wise.
Student management Classes, batch wise.
Attendance management online.
Assignment verification and upload management.
Study material upload and download having Image, text, doc, pdf, video or any format doc.
Fees management offline entry and notification for pending due.
Online exam Support option based.
Offline exam result management.
Parent login for child status with multiple child in one parent.
Parent can see child progress like exam result, Schedule class, attendance and more.
Online classroom details like schedule online classroom in Google duo, Skype, zoom, YouTube live and other notice management.
Teacher direct contact and education profile can view by parent and student.
Teacher can manage all work by app and web both.
Student can upload assignment and more web also.
Push notification for any updates.
DEMO Details:
Web Demo Link : Demo URL
Admin User Name: admin
Admin Password: 123456
Classes Login: classis
Classes Password: 123456
Teacher Login : teacher
Teacher Password: 123456
Student Login: student
Student Password: 123456
2nd Demo APK if first one not support by some device
App Demo Details:-
Parents Login: 0123456789
Parents OTP: 0000
Teacher Login : teacher
Teacher Password: 123456
Student Login: student
Student Password: 123456

Release Notes (v3.0):
1. Flutter 2.2 updated now use flutter 2.2.
2. flutter 1.1 and flutter 2.2 both code you will get. you can use anyone flutter 1.1 or flutter 2.2 which ever you like.

Release Notes (v2.0):
1. Introducing Multiple Language English, Arabic & French.
2- Added new column note for assigment review.
3. Instllation guide and reskin update.
4. MathJx Function added for online Exam.
5. Bug Fix and imporvment for flutter and web setup.
6. Minor UI Change for User Experience.

Release Notes (v1.0):
1- new product launched

Especially on WpLitt.Com for people of
Ashburn

.
If you are in India or nearby WhatsaApp us on +91 9765190210 ! If you are in USA or nearby Please WhatsApp us on +1 9808190210