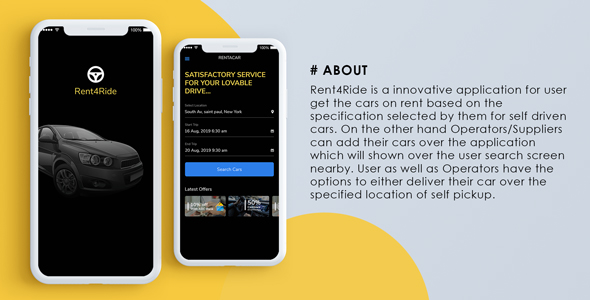 Especially on WpLitt.Com for people of
Ashburn

.

For Android app please contact us : ankitmobdev@gmail.com, Skype id : ankit.mobdev
Multiple Service Provider Rent4Ride Full Application for iOS with Web Admin is a innovative application for user get the cars on rent based on the specification selected by them for self driven cars. On the other hand Operators/Suppliers can add their cars over the application which will shown over the user search screen nearby. User as well as Operators have the options to either deliver their car over the specified location of self pickup.
iPhone Application: https://apps.apple.com/sc/app/rent4ride/id1496308232
FOR ANDROID APPLICATION PLEASE CONTACT US.
Rent4Ride is having following user friendly modules:
1. Easy Signup and login for the user.
2. User have the option to enter the roundup travel detail for rent a car.
3. User have multiple option of car to choose from.
4. Google map integration.
5. Easy and safe verification method before renting a car.
6. Car Suppliers can also create a account and can add different car as per the information and facility they have in their cars.
7. They can manage the different car right from their application.
8. Easy management of the cars
9. Each car will be on list after easy verification.
10. Have the option to login or signup into the application using social media. 
Back-end Module Information
1. Admin can manage the User
2. Admin can manage the Suppliers
3. Admin have rights to approve/disapprove user profile
4. Admin have rights to approve/disapprove suppliers profile
Back-end Informational Link – (Developed in PHP Codeignitor)
Link to Backend
Link – https://www.freebizoffer.com/apptech/rentcar/
id – rentcar@gmail.com
Password – 123456
You can Test the application by downloading through test link
Link – https://apps.apple.com/in/app/rent4ride/id1496308232
Login as User
id – john@gmail.com
Password – 123456
Login as Supplier
id – rock@gmail.com
Password – 123456
For more detail and customization please contact us
Email id : ankitmobdev@gmail.com
Skype id : ankit.mobdev
Especially on WpLitt.Com for people of
Ashburn

.
If you are in India or nearby WhatsaApp us on +91 9765190210 ! If you are in USA or nearby Please WhatsApp us on +1 9808190210