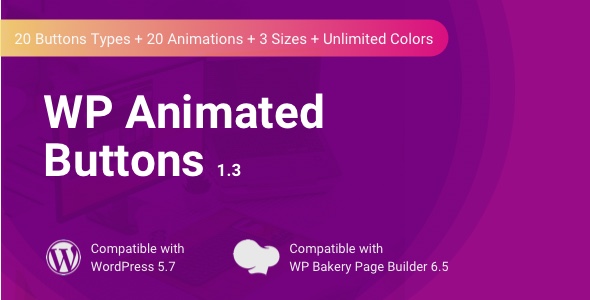 Especially on WpLitt.Com for people of
Ashburn

.
Why the price is high?
Hi, my name is Hamid Reza Sepehr and I am a developer in Kabul, Afghanistan. As you may know our country is in a very critical situation, Taliban terrorist group have captured more than half of the country, and I am stuck in Kabul. I need to leave the country as soon as possible. I have no other income source so I need to sell this plugin in order to earn enough to get me and my family to a safe place. Please if you are capable purchase my item, I really need that.

Also note that I may not be able to provide regular support as I used to do before.

Thank you so much.
WP Animated Buttons is a WPBakery Page Builder addon with a beautiful and trendy set of animated buttons. You can define buttons type, animation, color and link. The plugin is lightweight, easy to use and fully documented. The support extension is also available through CodeCanyon website. Your feedbacks and suggestions are warmly welcomed.
Features:
20 Button Styles
22 Background Animations
3 Button Sizes
Unlimited Colors
Unlimited Variations
== Change Log: ==

= 1.3.0 (13 June 2021)
* Fixed: Link Target Issue

= 1.2.0 (25 June 2020)
* Fixed: Firefox Button Text Issue

= 1.1.0 (20 June 2020)
* Added: Icon Color Change (based on text color)
* Fixed: Button 2 Style Issue
* Fixed: Button 9 Style Issue

= 1.0.0 (18 April 2020) =
* Plugin version 1.0.0

Especially on WpLitt.Com for people of
Ashburn

.
If you are in India or nearby WhatsaApp us on +91 9765190210 ! If you are in USA or nearby Please WhatsApp us on +1 9808190210